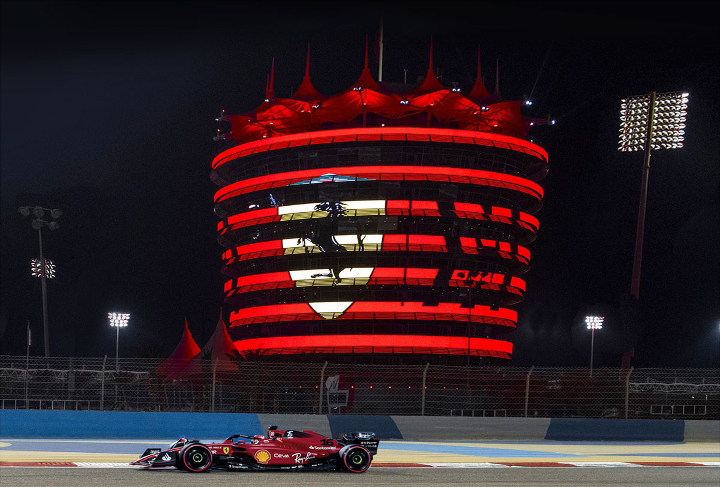 Studio Due illumina la "fantastica coppia" Ferrari in Bahrain
Woodroffe Bassett Design chose Studio Due products for lighting the top of the Sakhir Tower at the Bahrain International Circuit (BIC) on the occasion of the recent Formula One Grand Prix which has seen the Ferrari duo Leclerc and Sainz gain first and second place respectively!
Area: Bahrain International Circuit, home of the Formula One's Bahrain Grand Prix and Sakhir Grand Prix.
Facility: Sakhir Tower
Project objective: the Sakhir Tower is a landmark building but when the Bahrain International Circuit adopted night races the extremely bright white required to light the F1 circuit made it difficult for viewers to see the prominent building during TV broadcasts. As such, BIC approached WBD for a video and lighting solution first to make the tower stand out against the track lights and second to make the tower's content and colour somewhat representing the action on the track. As a national landmark it was essential that the tower's elegant circular form would not be altered or diminished through the addition of video and lighting technology. WBD engaged Standard as video system designers. Ptarmigan Integration worked as WBD's control and systems integration consultant. Content was created by Dandelion + Burdock.   
Used Studio Due fixtures

-
48 pcs  T-Bright Plus Rgbw

- 48 pcs  Parled Rgbw

- 36 pcs  Aria L5 Rgbw

Concept, Creative Design and Content Curation: WBD (UK) Patrick Woodroffe, Adam Bassett e John Coman
Lighting Control and Systems Integration: Ptarmigan Integration (Hongkong), Simon Fraser e Greg Pittams.
Technical Systems Design and Delivery: Standard Vision (USA) e Spectrum Lighting Technology (UAE)